Somfy Indoor Camera is the only home video camera that gives you true security and privacy thanks to a motorized shutter that blocks recording.
Learn more
Enjoy A Great Monitoring Experience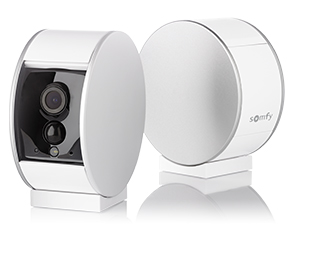 Protect your privacy
Somfy Indoor Camera is the ONLY camera with a motorized privacy shutter. You can control it from your smartphone and close it when coming back home.
You no longer have to chose between privacy and security.
---

SomfyVision™: True Security
The Somfy camera combines an infrared-based
motion sensor and motion detection to ensure
highly accurate alerts. No more false alarms!

Easy Set up
Install your camera in minutes
from your smartphone (iOS & Android)

Talk and listen to your home
Enjoy the camera's 2-way audio
communication and make sure
to always stay connected to your home.

A great
monitoring experience
The Somfy camera comes with a
130° wide view angle, a 8x zoom,
and night vision. Images will just look crystal clear!

Smart Activation
Somfy will remind you to activate
motion detection when leaving
© 2017 Somfy Protect. All rights reserved.